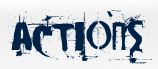 Natural fear of the uknown

How much do we have to pay for wanting bliss ?
If we wanted turn back time - everything is missed
Desire – disaster
I am blasted lovesick bastard

Our death is near
I am so paralyzed with a fear
opened wound cannot be sealed
this is another Good bye
for a poisoned girl that I used to love...


I feel like the morning after the night before
I dosed myself with the pills – of happines
I dont have a time to turn around
I allways had a hunger mouth

I ll go
Against my will
Against the wind and stream
Against the pain – I scream
Against the grain
of natural fear of the unknown...